Building an American industry
Ørsted is growing a dynamic American industry across the clean energy sector, creating jobs, investing in communities, and delivering environmental justice.
The expansion of the clean energy industry is sparking growth and economic recovery. We want to bring its benefits to people across the country, delivering on the promise of a more reliable, sustainable, and equitable future.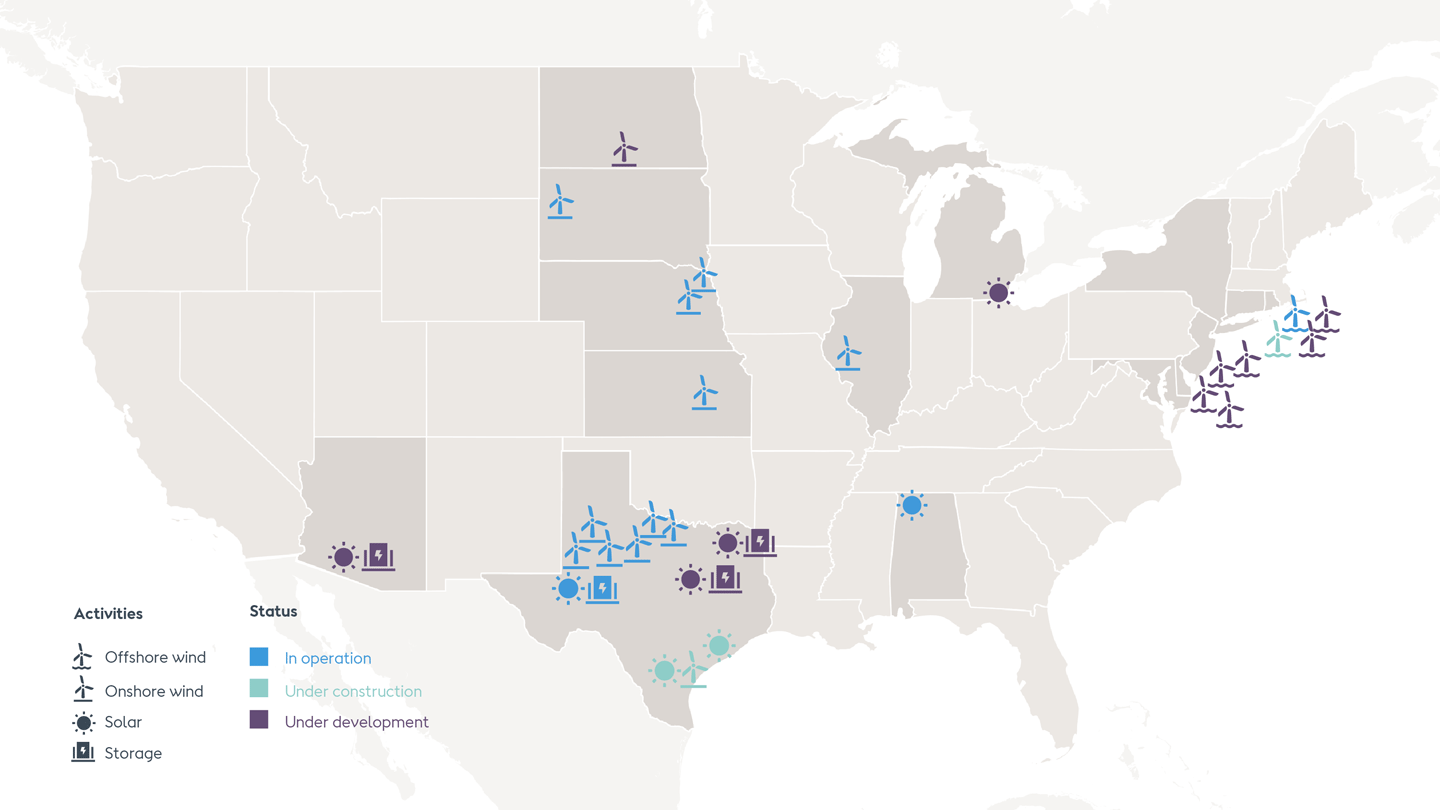 Global experience, local expertise

Ørsted plays an important role in the American energy industry. Our large-scale offshore and onshore wind farms, solar farms, and energy storage facilities do more than mitigate climate change. They're also making our domestic energy infrastructure stronger and more robust. And they're growing the national economy.
Globally, we're leaders in offshore wind, with more projects in operation around the world than any other developer. Here in the U.S., we're at the forefront of this rapidly growing industry. We own and operate America's first offshore wind project off the coast of Rhode Island, and we've been awarded nearly 5,000 MW more offshore wind capacity on the East Coast – a key contribution towards the U.S. goal of developing 30 GW offshore wind capacity by 2030.

On a local level, our onshore renewable energy solutions are having a long-term positive impact on diverse communities across the nation, with a 4 GW portfolio of onshore wind, solar, and storage projects in operation and under construction across Texas, the Midwest and the Southeast. Our sustainable energy solutions pave the way for a secure and reliable future for domestic energy in the U.S.
Our clean energy solutions

Explore the links below to find out more about how we're generating renewable energy.

We employ more than 500 people in states across the country. And we're poised for massive growth, creating many more local, good-paying, accessible jobs that stimulate the American economy and help meet growing energy needs across the country.

As well as making opportunities in clean energy accessible to America's skilled workforce, we're also committed to growing that workforce, investing in educational and workforce development initiatives to help more people make the most of coming opportunities in our sector.
One initiative to support workforce development is
our partnership with North America's Building Trades Unions (NABTU)
. Together, we've signed a historic National Offshore Wind Agreement that ensures a just transition to clean energy, committing to train and employ a new American union workforce to construct and install all our offshore wind farms.
In New Jersey, where we're building the Ocean Wind 1 & 2 offshore wind farms, we've established the
$15 million Pro-NJ Grantor Trust
, which offers small, women- and minority-owned businesses support in re-tooling their businesses for the offshore wind industry.
In the communities where our onshore wind farms operate, we sponsor teachers in local school districts to attend trainings on how to incorporate STEM activities in their classrooms, as a way of inspiring future generations of clean energy workers.
The economic growth that clean energy brings is more than just a promise. We're making real investments, building long-term partnerships, and making a lasting impact that benefits local people, resources, and economies. We continue to own and operate the projects we develop and build, so we're committed to sustainable, equitable growth through generations.
In the rural economies where we work, our onshore projects create millions of dollars in tax revenue or payments in lieu of tax. These can be used to build new schools, improve infrastructure, and expand emergency services. We always want to be a good neighbor. We support landowners through rental payments that provide them with additional, reliable income.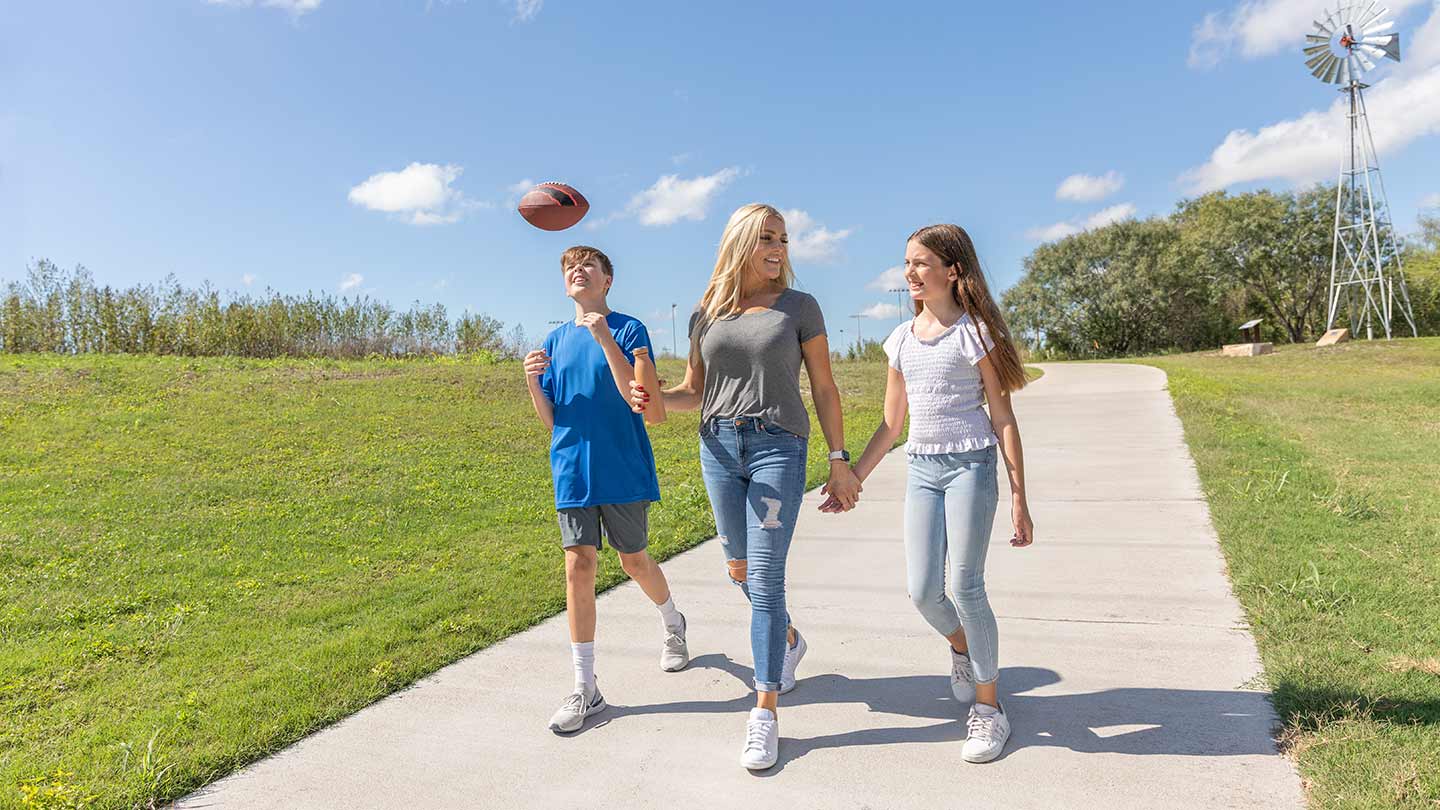 Building a domestic supply chain
It's not just the communities we work in that benefit. We're active in expanding our domestic supply chain and our projects have stimulated nearly $2 billion of investments like new and expanded manufacturing facilities, new vessels and new technologies that support offshore wind development, ushering in a new era of U.S. maritime activity and impacting states from the East Coast to the Gulf Coast, in the Heartland and beyond.
Sustainable solutions, innovative technologies
Wherever we work, from communities in the U.S. to countries around the world, we're committed to making the growth of clean energy something truly sustainable. We were the first energy company to transition from fossil fuels to clean energy, and we'll be the first to reach
net-zero carbon emissions
.
Our solutions go beyond energy generation, including a recent agreement with Maersk to develop
green shipping fuels
. This marks our entry into the U.S. power-to-X market.
As the world's most sustainable energy company, we also believe it's our responsibility to make a positive contribution to nature. We've pledged to achieve a net-positive biodiversity impact for all new project commissioned from 2030.
Learn more about Ørsted's story