Driving a sustainable world
Today, we're facing a new world with renewed focus. A focus on the health of our families. Our communities. Our economies. Our planet.

At Ørsted, we believe this moment is also an opportunity for a great American recovery by furthering an industry founded on clean energy. An industry that is poised to spark growth and recovery through domestic job creation, community investment, and environmental justice.
Now is the time to realize a new normal. One that celebrates American ingenuity and allows us all to live and thrive in a world powered by clean energy.
This is what we're calling a renew normal.
Together, we can build a resilient and responsible economy that provides a sustainable, equitable, and secure future for us all.
Empowering the future

Ørsted plays an important role in the dynamic energy landscape of America – our utility-scale offshore and onshore wind, solar and energy storage solutions provide stronger and more robust energy infrastructure, while growing our national economy.
We are committed to strengthening our communities and creating opportunities for growth through the collective power of our clean energy solutions.
Ørsted is a pioneer in global offshore wind, proud to operate America's first offshore wind project, the Block Island Wind Farm. The 30 MW, 5-turbine project began commercial operations in December 2016, and more than 300 local workers were involved in building the project.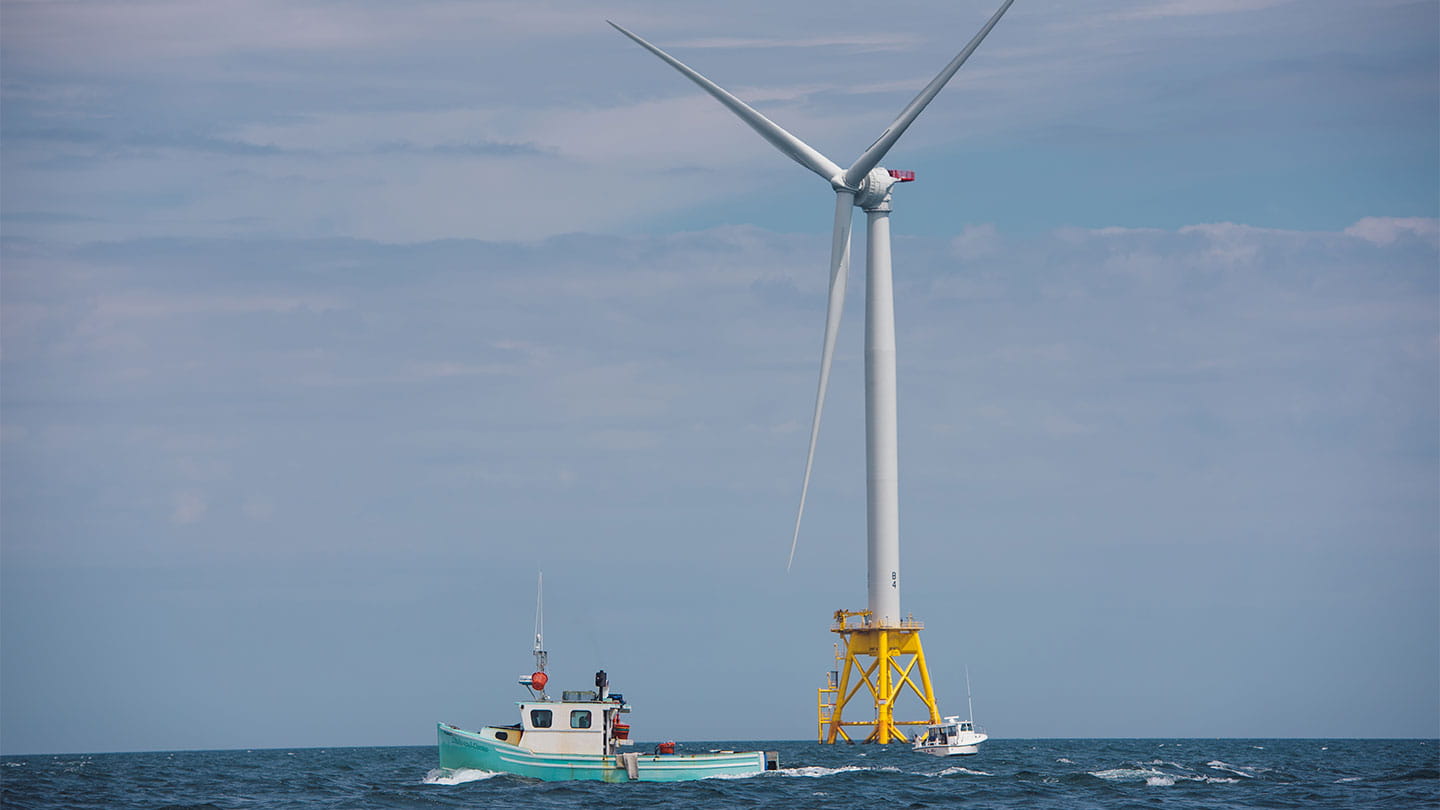 Offshore wind
America's first offshore wind project began commercial operations December 2016.
Impressive on its own, Block Island represents only a fraction of the nearly 3,000MW of offshore wind capacity Ørsted has been awarded through five projects along the East Coast. That capacity that will be a key contributor to the Biden Administration's goal of developing 30GW by 2030, a commitment that underscores the opportunity posed by offshore wind at the highest level.
Ørsted's onshore renewable energy solutions positively impact multiple regions across America, with a geographically and technologically diverse operational and under-construction onshore portfolio of 4GW, spanning Texas, the Midwest and Southeast across wind, solar and storage.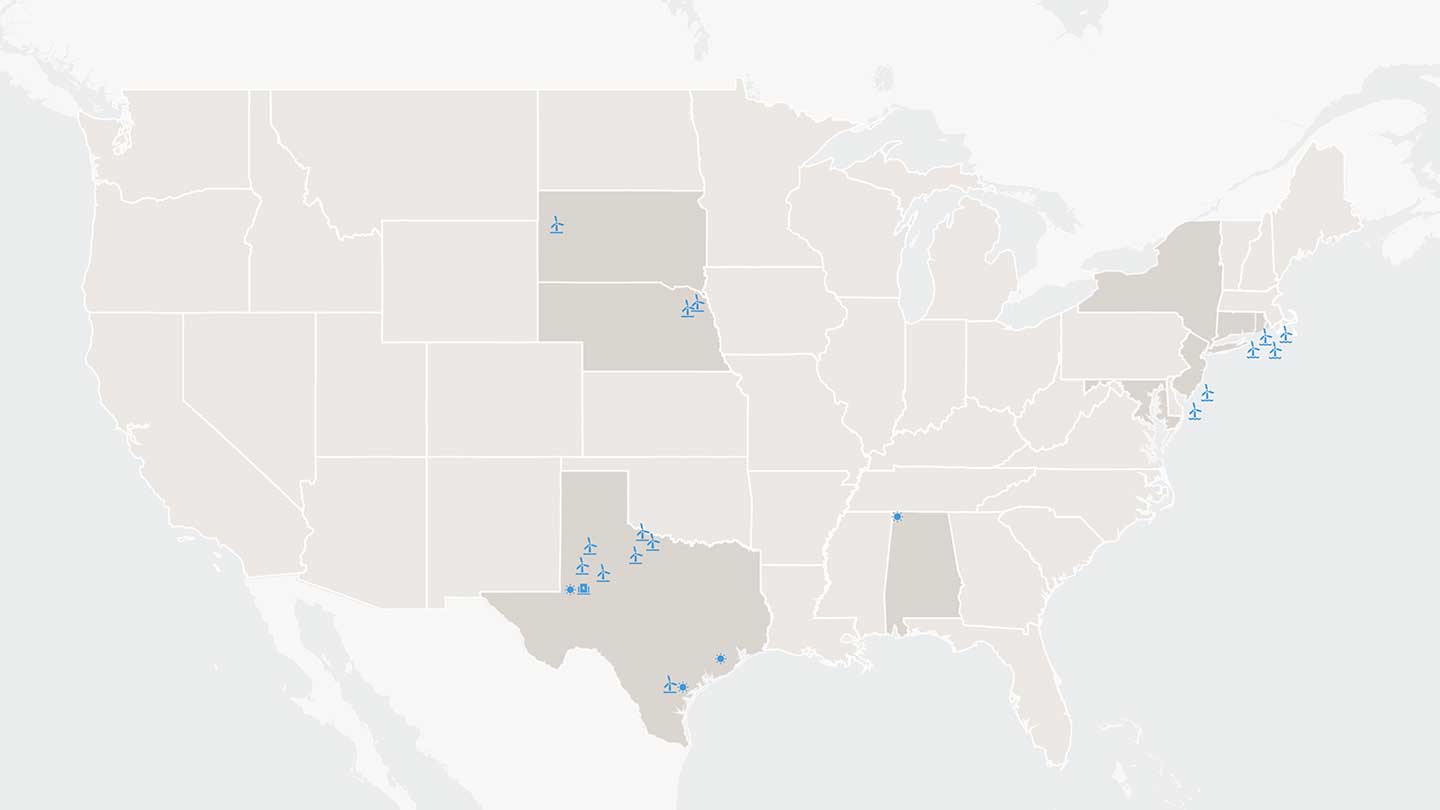 Together, our independent and affordable energy solutions pave the way for increased energy security and growing economic vitality in the U.S.
Creating opportunity

Ørsted is driving systemic change that will reduce carbon emissions and create opportunities for communities and companies to shift reliance from fossil fuels to renewable energy. As a company, we've transformed into a truly renewable energy company and want to share what we've learned and the benefits and opportunities it's created for us. So, at Ørsted, we work every day with our partners, suppliers, and communities across the country to scale renewable energy solutions and spark economic growth in America.
The investments we have made to open new facilities across the nation, construct Jones Act vessels in the Gulf Coast, upgrade port infrastructure like at Tradepoint Atlantic in Maryland, rehabilitate ports in the Northeast, partner with union labor groups, help corporations reach their sustainability goals, and support communities through our tax dollars are only the opening act of an industry poised to be crucial in building back better across America.
Ørsted is committed to fostering a new American supply chain that brings high-paying domestic jobs, community investment, workforce development, and economic growth and recovery.
Strengthening communities
We partner with communities to make them more resilient through long-term impact to benefit their people, resources, and economies.
Economic growth is more than a promise. It's about making investments that lead to a powerful ripple effect and at Ørsted, we're passionate about building long-term partnerships that make a lasting impact. We develop, build, own and operate our projects, and recognize the importance of fostering sustainable, equitable growth for generations to come.
Across the nation, we're investing in educational and workforce development initiatives that will continue to support the expansive domestic job opportunities the emerging clean energy industry has to offer.
For example, in New Jersey, the Ocean Wind offshore wind project has established the $15-million Pro-NJ Grantor trust, which offers small, women- and minority-owned businesses support in re-tooling their businesses to participate in the offshore wind industry. The fund also provides support for infrastructure resiliency improvements in Atlantic, Ocean, and Cape May counties.
In Onshore, our partnership with the Texas Native Seeds Program, a non-profit research and development program of Caesar Kleberg Wildlife Research Institute at Texas A&M – Kingsville enables us to research the optimal seed mix and planting process to grow native grasses under portion of our solar projects. In addition, we sponsor teachers in the school districts we work in to attend trainings on incorporating STEM activities in their classrooms.
Within these communities and around the world, Ørsted is committed to the sustainable build-out of green energy and decarbonization of our total carbon footprint. In fact, we will be the first major energy company to not only have entirely transformed from fossil fuels, but also reach net-zero emissions.
Learn more about Ørsted's story