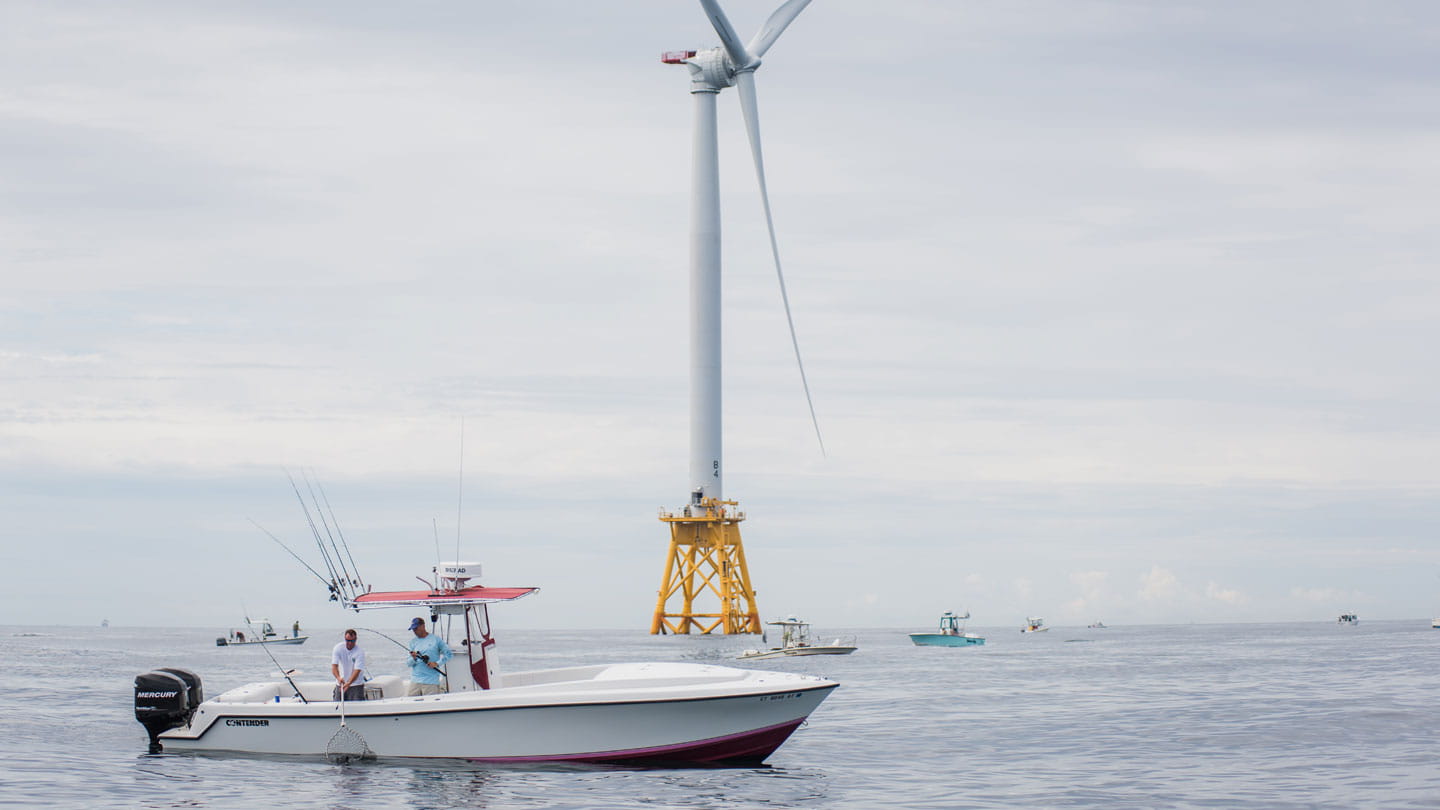 We want to hear from you

At Ørsted we realize the importance of stakeholder outreach to better understand how our lease areas are utilized. We also recognize the necessity of being available to address questions, comments, and concerns. A large part of our outreach is done via face-to-face, meetings and out on the docks, but we are continually finding ways to speak with new people, especially in this time of social distancing. Therefore, we have created a new online stakeholder survey which may be completed at any time and is applicable to our projects in the Northeast and Mid-Atlantic. The survey can be taken anonymously and all answers will remain confidential.
Operational
Block Island Wind Farm

Block Island Wind Farm (BIWF)


Located approximately 3 miles south east of Block Island, Rhode Island, the Block Island Wind Farm consists of five, six-megawatt offshore wind turbines, a submarine cable connecting the turbines, and a submarine cable from the northernmost turbine to an interconnection point on Block Island. The construction of the five turbines and the transmission cables was completed in 2016. The BIWF team has worked closely with mariners, including commercial and recreational fishing groups, to minimize impacts to the extent possible.
In development
Bay State Wind

Bay State Wind is a proposed offshore wind project located 25 miles off the Massachusetts South Coast. Marine survey activities are currently underway.

View the Bay State Wind chart here
Fishing gear conflict prevention and claim procedure
(as of January 2021)
As good neighbors and fellow ocean users, Ørsted recognizes the possibility of offshore wind activity and commercial fishing gear encounters. We believe that with proper communication and training, there will be limited gear interactions, if any, in connection with the installation and operation of our offshore wind farms. In the event that there is a gear loss caused by or resulting from Ørsted's activities, we have provided a claim/damage procedure at the link below. The prevention procedures are by no means exhaustive and will continue to be modified and improved.
Instructions for Gear Loss Claim

Our Marine Affairs Team
Ed LeBlanc | Head of Marine Affairs
Phone: 978-447-2737 Email: EDWLE@orsted.com


John Mansolillo | Northeast Marine Affairs Manager
Phone: 401-145-5467 Email: JOMAN@orsted.com
Norm Witt | Mid-Atlantic Marine Affairs Manager
Phone: 240-972-0903 Email: NORMW@orsted.com

Ross Pearsall | Fisheries Stakeholders Relations Manager
Phone: 857-278-2442 Email: ROSPE@orsted.com

Rodney Avila | Corporate Fisheries Liaison
Phone: 857-332-4479 Email: RODAV@orsted.com
Julia Prince | NY/CT Fisheries Liaison
Phone: 857-348-3263 Email: JULPR@orsted.com
Kara Gross | Mid-Atlantic Fisheries Liaison
Phone: 857-330-7699 Email: KARGR@orsted.com

Dana Nelson | Mid-Atlantic Fisheries Liaison
Phone: 443-365-7158 Email: DNELS@orsted.com