Ørsted Ranked "World's Most Sustainable Energy Company" Fourth Year in a Row
2022-01-19T15:00:00.0000000Z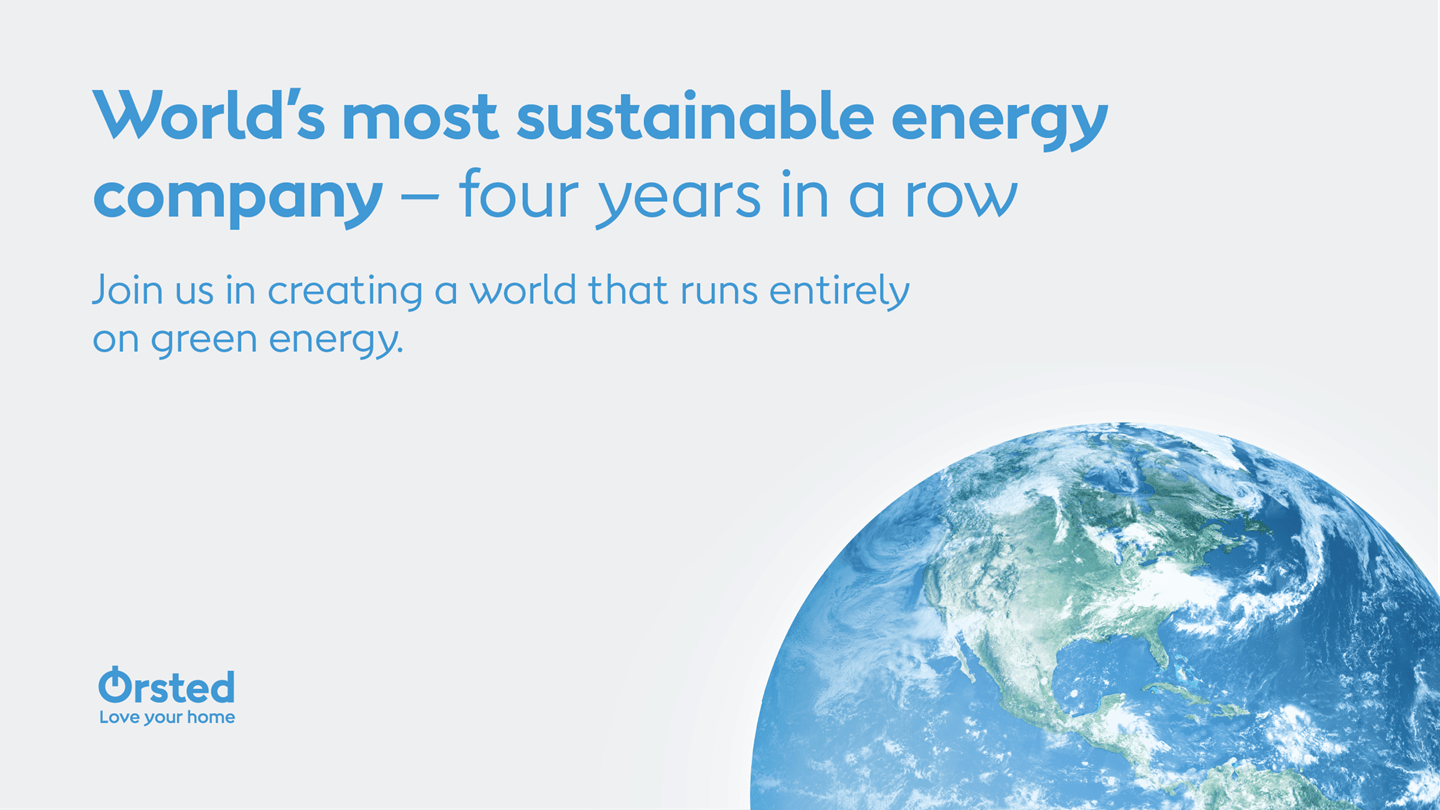 BOSTON – Today, Ørsted, a global clean energy leader with extensive U.S. partnerships across offshore and onshore wind, solar, and storage, was selected for the fourth year in a row as the "world's most sustainable energy company" by Corporate Knights. Based on a rigorous assessment of 6,914 companies, Ørsted ranked No. 1 in Corporate Knights' 2022 Global 100 index of the world's most sustainable businesses.
"This recognition as the 'world's most sustainable energy company' provides me with a deep sense of pride, especially because I get to see it come to life every day," said David Hardy, Ørsted Offshore North America CEO. "I see it when I interact with our passionate employees who use their expertise to advance our vision of a world run entirely on green energy. I also see it in the way we build partnerships with local communities seeking environmental justice, union leaders helping us create good-paying jobs, environmental groups similarly dedicated to coexistence and other stakeholders helping us stand up a new U.S. offshore wind industry."
Ørsted transformed from a fossil fuel intensive business to a global renewable energy leader, achieving this transition faster than any other major energy company. The early transition has positioned Ørsted as the global leader in offshore wind and a trusted partner for governments and businesses who are taking real action on climate change. In the U.S., home to approximately 450 employees, Ørsted has an extensive and growing clean energy portfolio that includes over 4 gigawatts of onshore wind, solar and storage in operation or under construction, as well as approximately 5 gigawatts of offshore wind energy in development, which is the largest portfolio in the country.
"Taking the necessary action to stay within 1.5°C is in essence neither a technology nor an economic challenge," said Mads Nipper, Ørsted Group President and CEO. "It's a leadership challenge, and we don't have another month, week or day to waste. In the past year, we've seen a boom in government and corporate climate ambitions, and 2022 must be the year where governments and businesses turn ambition into action. Energy is still responsible for 73 percent of global emissions, and without an immediate ramp-up in action the world will not halve emissions by 2030, and our shot at a 1.5°C future is lost."
As part of today's announcement, Ørsted published a new climate leadership handbook "Getting on track for 1.5°C". For a global audience, the handbook highlights the urgent issues that public and private leaders must address to confront climate change, including renewable targets, more predictable processes that allow for a faster build-out and increased support to improve biodiversity. For the private sector, the handbook encourages setting science-based net-zero targets and a 90 percent emissions reduction before utilizing offsets.
"Our workforce holds a deep commitment to driving positive social change," said Melissa Morgante, Head of People and Development for Ørsted North America. "More than a professional opportunity, Ørsted provides its employees with an outlet to live the change we want to see in the world. Today's recognition reflects the team's dedication and commitment to our partnerships with local, state and federal policymakers seeking to achieve ambitious clean energy objectives in the United States and globally."
Under President Joe Biden's leadership, the United States has set several clean energy targets that will create jobs and economic opportunity, while combating climate change. The Biden-Harris plan to deliver 30 gigawatts of offshore wind energy by 2030, coupled with other clean energy and federal procurement targets, match the imperative set forward in Ørsted's climate leadership handbook.
The foundational investments in a clean energy infrastructure established by the bipartisan Infrastructure Investment and Jobs Act, alongside the proposed climate policies in the Build Back Better Act, would cement America's global climate and clean energy leadership.
The Corporate Knights Global 100 index full 2022 methodology, including 24 quantitative measures, can be found here. We've assembled additional information and resources on taking climate action here.
About Ørsted
The Ørsted vision is a world that runs entirely on green energy. A global clean energy leader, Ørsted develops, constructs, and operates offshore and onshore wind farms, solar farms, energy storage facilities, and bioenergy plants. Ørsted is the only energy company in the world with a science-based net-zero emissions target as validated by the Science Based Targets initiative. Four years in a row, the company was ranked the world's most sustainable energy company by Corporate Knights.
In the United States, the company has a growing portfolio of clean energy assets and partnerships that includes offshore wind energy, onshore wind energy, solar and storage technologies. A leader across the renewable energy sector in the United States, Ørsted holds the top position in offshore wind energy with approximately 5 gigawatts in development and operates America's first offshore wind farm, located off the coast of Block Island. Ørsted has a total U.S. onshore capacity of 4.2 GW across wind, solar and storage technologies. To learn more about the Ørsted U.S. business, visit us.orsted.com or follow the company on Facebook, Instagram and Twitter (@OrstedUS).
Media contact
Ryan Ferguson
Communications Advisor and Public Affairs Lead
RYFER@Orsted.com