Share your support for offshore wind with your network.
Capitolize On Offshore Wind Power

Our Nation's capital is one of the most powerful cities in the world, where everyone is plugged in and politically engaged. Ørsted looks forward to working with the District to generate the kind of power that comes naturally, to make the city completely neutral – carbon neutral, that is.
The District has laid out a bold, innovative plan to address the climate change our world faces, and it's a vision we share. The city has already made great progress on clean energy and set goals to be 100% renewable by 2032 and carbon neutral by 2050.
As the world leader in offshore wind, we're here to support that ambitious goal. We operate America's first offshore wind farm, and power millions of homes with clean energy worldwide, and we're just getting started.
Together, we can power tens of thousands of DC homes with reliable, cost-effective clean energy, help create green jobs in the region, and work toward our shared goal of a world that runs entirely on green energy.
2032
DC will be powered by 100% renewable energy by 2032
Do you support making DC more 'Neutral' with clean energy powered by offshore wind?

Sign the petition below!
Offshore Wind in the DMV
Offshore wind is rapidly growing in the DMV. Maryland and Virginia have both set ambitious carbon reduction targets and declared offshore wind to be critical in achieving these goals. Over the next fifteen years, the DMV will be powered by at least 7GW of offshore wind.
Ørsted is proud to be developing projects in both states and creating thousands of good-paying jobs in Main Street communities throughout the region. The Coastal Virginia Offshore Wind project is on track to be the MidAtlantic's first offshore wind farm, and Maryland's Skipjack Wind Farm will generate clean, renewable energy for over 35,000 homes in the region.
Learn more about Ørsted's offshore wind activities on the East Coast
600,000
600,000
Ørsted will help power over 600,000 homes in the Mid-Atlantic region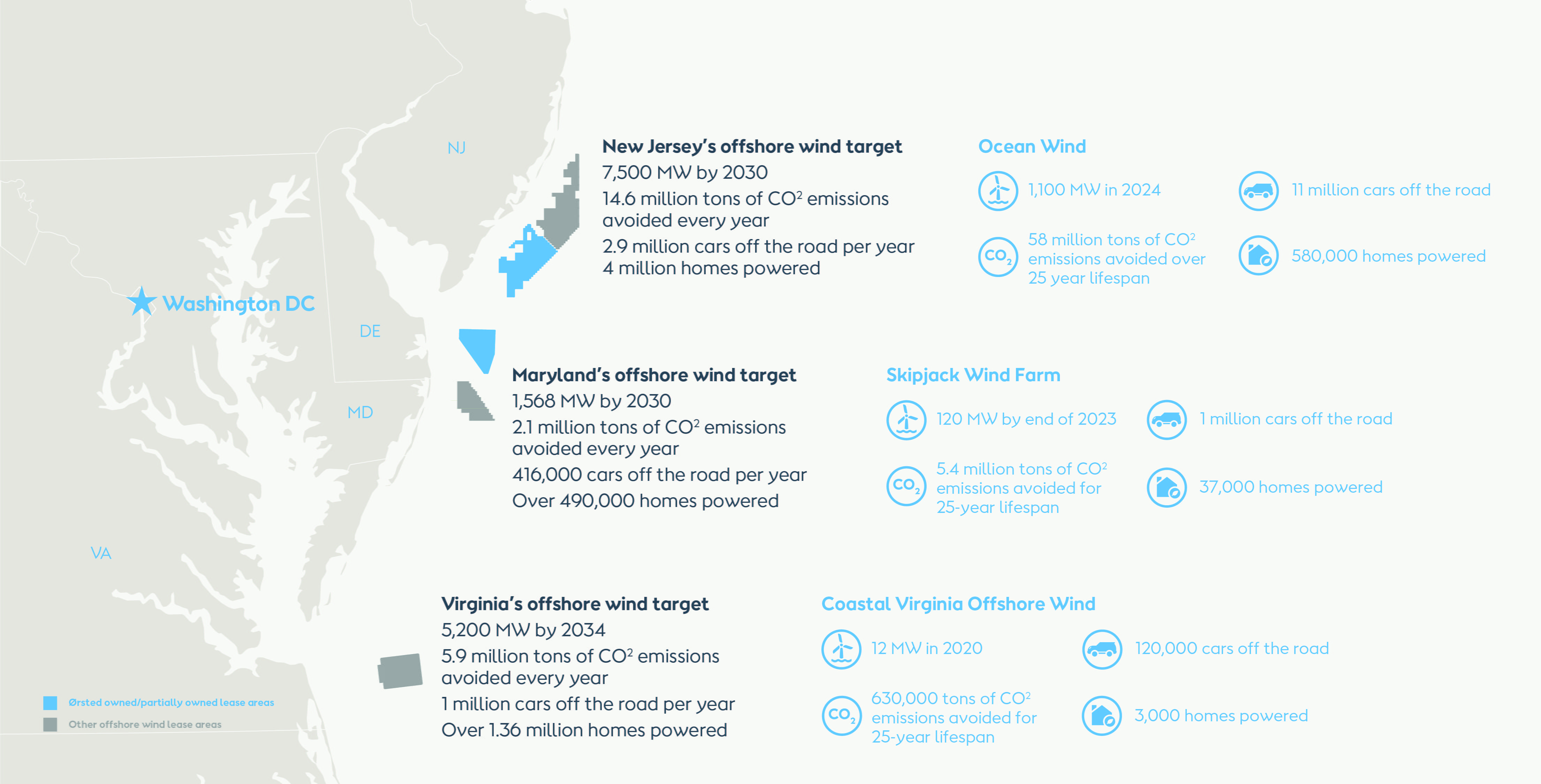 America's leading offshore wind developer
We own and operate America's first and only offshore wind farm – Block Island Wind Farm. We have real know-how from being the first in the nation to successfully build an offshore wind farm. And we're especially proud that, in addition to Rhode Island, the states of New York, Connecticut, New Jersey, Maryland, and Virginia have entrusted us to deliver their first offshore wind projects. This local experience combined with our global track record makes us the perfect partner to deliver offshore wind to the District.
We're not just America's leading offshore wind developer, we're the world leader. And since pioneering the world's first offshore wind farm in Denmark in 1991, we've gained unrivaled experience and know-how within our field, creating true value for the local communities in which we do business. With over 1,300 offshore wind turbines installed and bringing reliable, green energy to millions around the world, we know what it takes to make offshore wind a reality.
1300
1,300
Ørsted has installed over 1,300 offshore wind turbines around the world

The world leader
Ørsted is the world leader in offshore wind and our vision is to create a world that runs entirely on green energy. Ørsted has been a world leader in offshore wind energy since we built the world's first offshore wind farm in 1991. We currently operate 26 offshore wind farms with over 6.8GW of installed capacity – that's enough to provide green power to more than 15 million people.
Ørsted is proud to be ranked as the world's most sustainable energy company in Corporate Knights' 2021 Global 100 index of the most sustainable corporations
To learn more about Ørsted visit orsted.com.