Ørsted to Build Maryland's First Emissions-Free Offshore Wind Operations & Maintenance Facility in West Ocean City
2021-10-06T04:00:00.0000000Z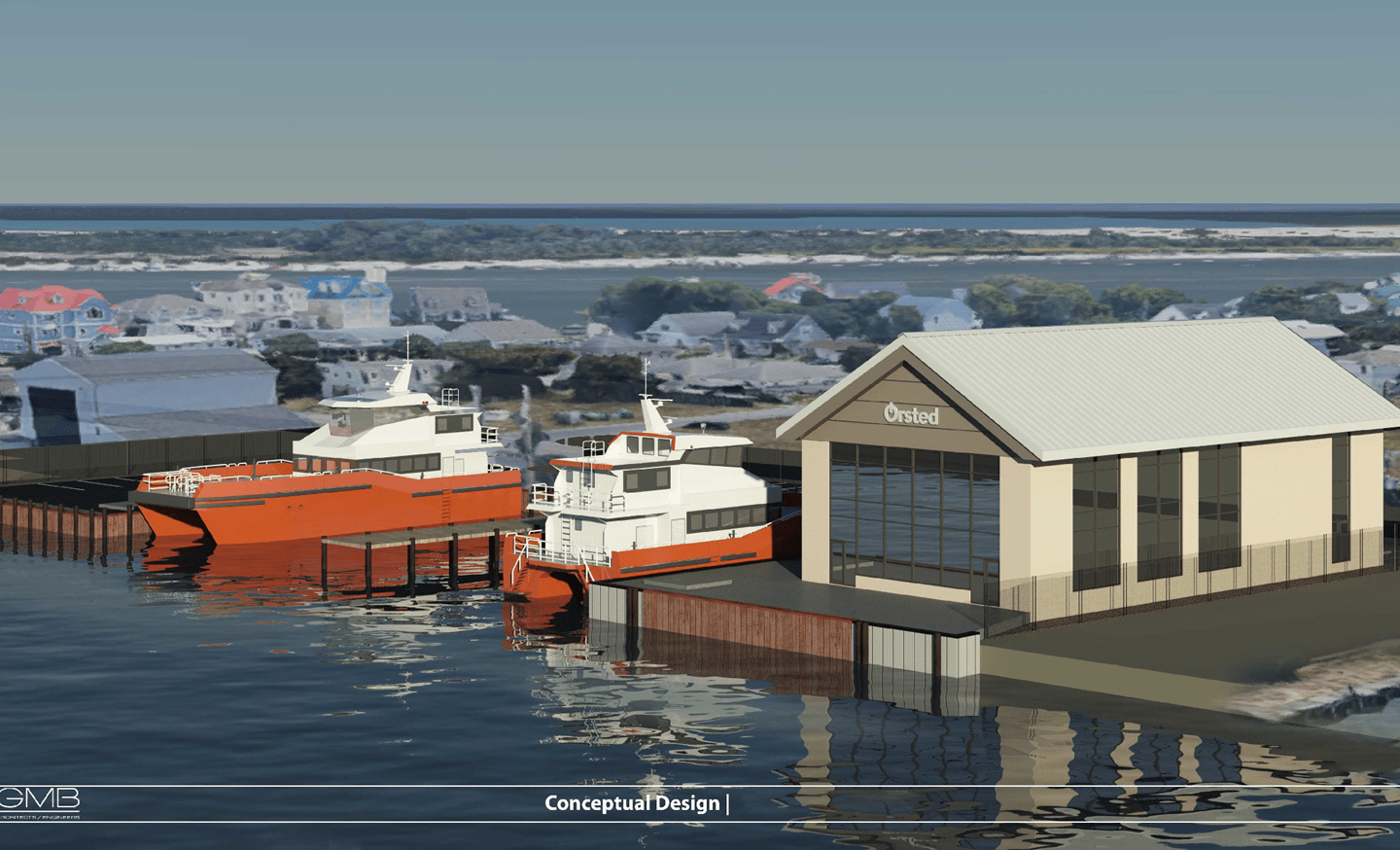 Annapolis, MD
- Ørsted, the global leader in offshore wind energy, today announced it will build Maryland's first emissions-free offshore wind operations and maintenance (O&M) facility in west Ocean City, Maryland. The nearly $20 million facility—located on Harbor Road—will service Ørsted's Skipjack Wind program, create up to 110 temporary and permanent jobs in the community, and position the Ocean City area as a strategic hub for offshore wind jobs and economic activity.
Skipjack Wind 1 is a 120-megawatt offshore wind energy project under development in Maryland that will power 40,000 homes in the region, generate $225 million in economic investment in Maryland, and create nearly 1,400 jobs statewide.
Ørsted's O&M facility will serve as the strategic embarkation point for up to three Crew Transfer Vessels (CTV) that will service Skipjack Wind 1. The O&M location will include a warehouse and serve as Ørsted's Ocean City area office. Ørsted plans to utilize zero emission CTV vessels at the facility as part of its commitment to sustainability and environmental stewardship. The facility will serve as the permanent home for key members of the Skipjack Wind 1 Maryland team, including highly skilled wind turbine maintenance technicians, engineers, operations personnel and other key roles.
By locating its O&M facility in the Ocean City area, Ørsted is fulfilling a commitment made to the State of Maryland when the Public Service Commission awarded the project in 2017. This is the second major economic development commitment Ørsted has fulfilled, following the 2019 launch of Maryland's first offshore wind staging center at Tradepoint Atlantic in Baltimore County, Maryland.
"Wind energy promises cost-effective clean energy and jobs right here at home," said
U.S. Senator Ben Cardin
. "I'm excited to see how this project moves forward, working closely with Ocean City and the local community. This new facility will help solidify Maryland as a national leader in creating the clean energy economy that will strengthen national security by lessening our dependence on foreign oil and protect our environment for generations to come."
"Investing in renewable energy sources like offshore wind will boost Maryland's economy, create more opportunity in our communities, and help us tackle the ever-present threats of climate change. An offshore wind operations and maintenance facility will provide more good-paying clean energy jobs across our state. This is a win-win for our environment and our economy, and I will continue working at the federal level to support responsible offshore wind development and a Clean Energy Standard to incentivize renewable sources," said
U.S. Senator Van Hollen
.
"Ørsted's investment is great news for the Lower Shore workforce and a great example of why the Greater Salisbury Committee has supported offshore wind for six years," said
Mike Dunn, president and CEO of the Greater Salisbury Committee
. "Offshore wind is creating a tremendous job pipeline for Lower Shore workers and small businesses. Diversifying our workforce with good paying jobs that service Skipjack Wind is huge for our region and our workers."
"As a small business owner who understands the critical importance of workforce development, I am excited to see Ørsted's continued long-term investment on the Eastern Shore, reinforcing their early commitments to a local workforce and economic development in our community," said
Katarina Ennerfelt, CEO of Arcon Training Centerin Salisbury, Maryland
. "We applaud Ørsted for taking this significant step in making offshore wind a reality in Maryland."
"As the global leader in offshore wind energy, Ørsted firmly believes that the Ocean City community deserves full access to the incredible promise of this new American industry," said
David Hardy, CEO of Ørsted Offshore North America
. "We are excited to fulfill another commitment made to the State of Maryland and look forward to working with Ocean City residents, including its local fishing community, to make this a project that benefits all."
About Ørsted Offshore North America
The Ørsted vision is a world that runs entirely on green energy. Ørsted ranks as the world's most sustainable energy company in Corporate Knights' 2021 Global 100 index of the most sustainable corporations and is recognized on the CDP Climate Change A List as a global leader on climate action.
In the United States, Ørsted operates the Block Island Wind Farm, America's first offshore wind farm, and constructed the two-turbine Coastal Virginia Offshore Wind pilot project – the first turbines to be installed in federal waters. Ørsted has secured over 4,000 megawatts of additional capacity through six projects in the Northeast and Mid-Atlantic. Ørsted Offshore's North American business is jointly headquartered in Boston, Massachusetts and Providence, Rhode Island and employs more than 150 people. To learn more visit us.orsted.com or follow us on Facebook, Instagram and Twitter (@OrstedUS).