Ørsted Holds Ribbon-Cutting Ceremony in New Newark Office
2022-10-13T20:06:26.0000000Z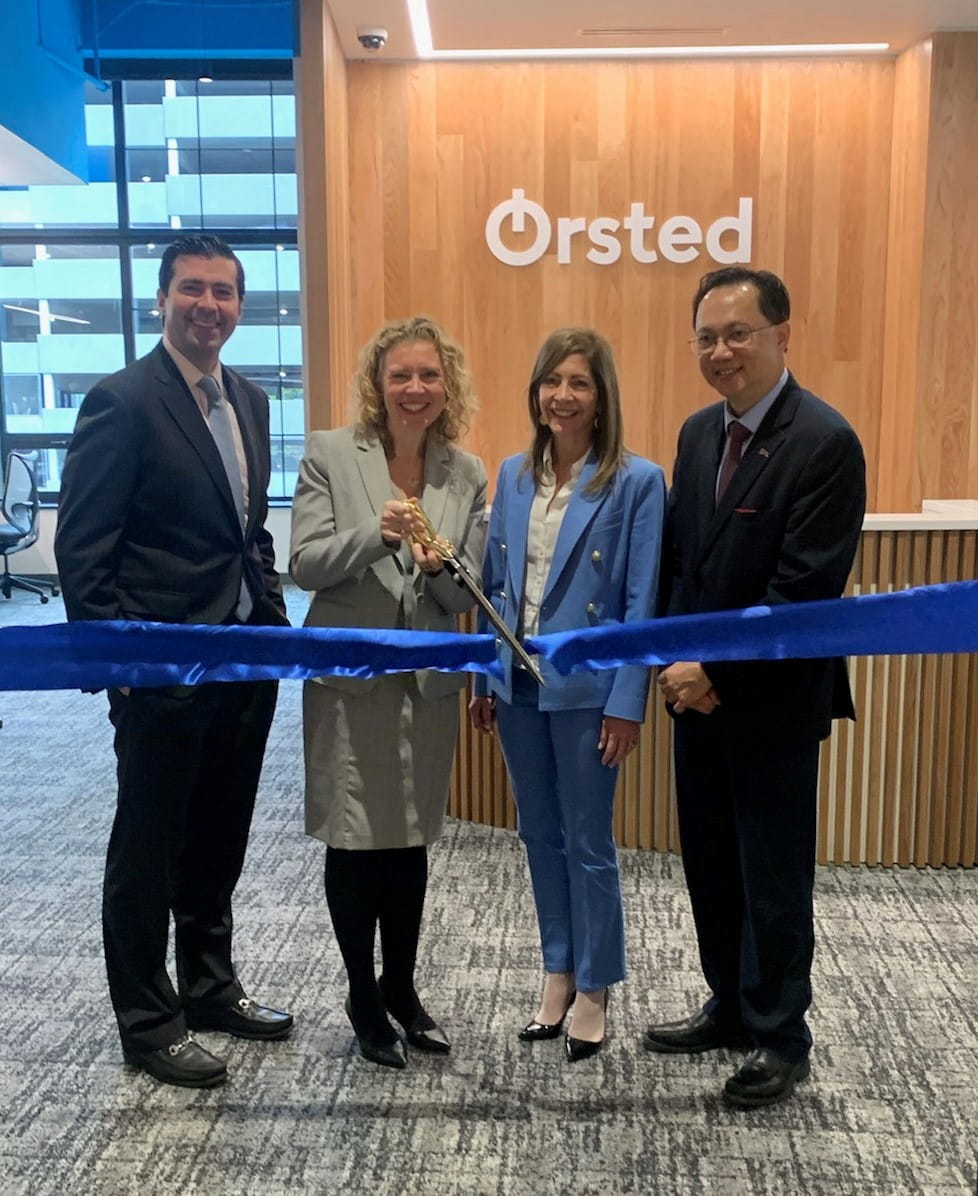 Newark, NJ – Today, Ørsted welcomed First Lady Tammy Murphy and New Jersey Economic Development Authority CEO Tim Sullivan, elected officials, Dr. Teik Lim, President of NJIT, Choose New Jersey, and businesses representatives to a ribbon-cutting ceremony recognizing Ørsted's commitment to the City of Newark and to the State of New Jersey. The opening of the office complements Ørsted's first office that was opened in Atlantic City in 2018.
The event was held within the recently renovated Ironside Newark, home to Ørsted's North American Digital Operations Headquarters which supports the company's offshore and onshore businesses. The office space is occupied by numerous new IT positions and serves as a base for local project development staff.
"I am so pleased to attend today's ribbon-cutting event celebrating the grand opening of Ørsted's second office in New Jersey," said First Lady Tammy Murphy. "When I attended the first office opening in Atlantic City, I hoped Ørsted would expand its footprint in New Jersey, and here we stand, today in Newark. The educational, societal, and economic benefits of offshore wind need to be felt throughout the state of New Jersey and the country, and today is another step toward that realization."
The event also highlighted the progress of Ørsted's 10-year, $1.5 million agreement with NJIT, announced in 2021, that created new scholarship and career development opportunities in the field of offshore wind and STEM for the university's exemplary engineering and computer science undergraduate students. In addition to the scholarships, Ørsted is also working with NJIT to develop STEM education and outreach programs to reach underrepresented students in the City through networking events, funded initiatives and college-prep programming for local elementary, middle and high school students. These programs are offered through the University's Center for Pre-College Programs and the NJIT-Newark Math and Science Initiative.
"We are proud that to date, we have joined NJIT in offering scholarships to 34 university students and have provided funding to the NJIT Center for Pre-College Programs and the NJIT-Newark Math Success Initiative," said Kathleen Frangione, Head of Government Affairs and Market Strategy for Ørsted. "We are focused on creating local educational opportunities that build solid foundations and bridges to opportunities that enable New Jersey students to have access to new clean energy job opportunities created in their home state."
"We are thrilled to have the global leader in offshore wind as a neighbor in Newark," said Wesley Mathews, President and CEO of Choose New Jersey. "There is no better place to source talent forØrsted's new North American Digital Operations Headquarters.Ørsted has been a great partner to the state since it established its first office in South Jersey and now with this expansion in North Jersey, is continuing its significant economic investmentinNew Jersey."
"We are pleased to welcome Ørsted's North American Digital Operations Headquarters as one of Newark's newest corporate citizens," City of Newark Mayor Ras J. Baraka said in a statement. "I am excited by the Ørsted/NJIT partnership to develop STEM education and outreach programs for Newark school children as well as offshore wind scholarships and career development for undergraduates. Newark is developing rapidly as a tech hub, and one reason is the collaborative culture of our corporate anchors and our colleges and universities. Not only is Ørsted an international leader in tackling the climate crisis, it is inspiring and helping to educate a new generation of sustainability innovators."
Through the development of the Ocean Wind 1 and Ocean Wind 2 offshore wind projects, Ørsted is bringing significant economic investment to New Jersey, totaling over $1.5 billion. Ocean Wind 1, developed in partnership with PSEG, anticipates spending $695 million in New Jersey while creating hundreds of construction jobs per year, including jobs associated with the development of the EEW monopile manufacturing facility in Paulsboro, the first of its kind in the U.S.
Ocean Wind 2 will invest $1 billion directly in the State and generate over $4.8 billion in net economic benefits for New Jersey, helping to further develop a strong domestic supply chain. In addition, the Ocean Wind 2 project is supporting the launch of an electric truck initiative at the Port of Newark in partnership with Zeem Solutions.
About Ørsted
A global clean energy leader, Ørsted develops, constructs, and operates offshore and land-based wind farms, solar farms, energy storage facilities, and bioenergy plants. Ørsted is the only energy company in the world with a science-based net-zero emissions target as validated by the Science Based Targets initiative. Four years in a row, the company was ranked the world's most sustainable energy company by Corporate Knights.
In the United States, the company has approximately 600 employees and a growing portfolio of clean energy assets and partnerships that includes offshore wind energy, land-based wind energy, solar, storage technologies and e-fuels. A leader across the renewable energy sector in the United States, Ørsted holds the top position in offshore wind energy with approximately 5 gigawatts in development and operates America's first offshore wind farm, located off the coast of Block Island. Ørsted has a total U.S. land-based capacity of 5 gigawatts across wind, solar, storage technologies and e-fuels. To learn more about the Ørsted U.S. business, visit us.orsted.com or follow the company on Facebook, Instagram, and Twitter (@ØrstedUS).
For further information please contact:
Media Relations
Liz Thomas
Thomas/Boyd Communications
liz@thomasboyd.com
609-923-9946